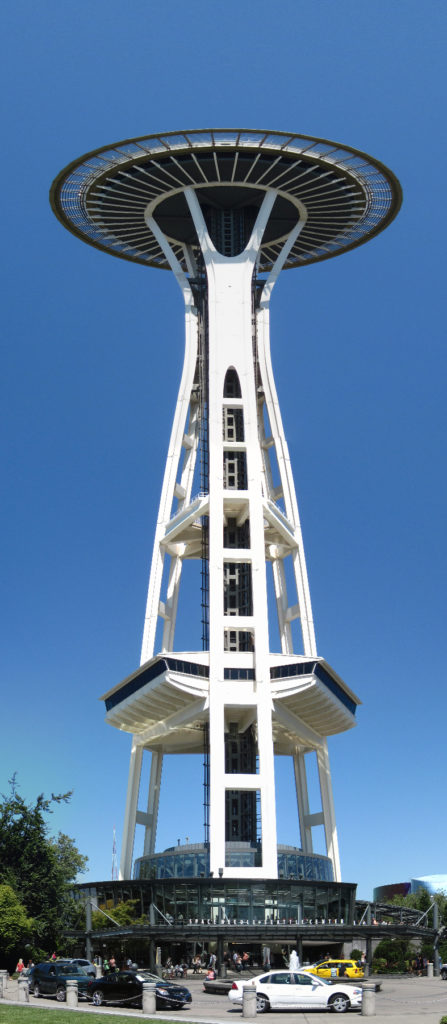 I wasn't traveling with my pano gear when we decided to make a whirlwind trip to Seattle to see some baseball.
But baseball games take up a small part of one's day, and there was plenty of Seattle to see in between. It was a beautiful summer weekend, and as we rode the monorail across the city, we realized on this particular Saturday we had lucked into the perfect day to visit the observation deck of the Space Needle. You could see the whole Sound, the city and Mt. Rainier on this gorgeous, clear day.
While walking around the circular deck, I started counting the major supports. Twelve in all, which makes for nice 30° chunks if one is trying to improvise a panorama. Yes! Let's try it. I took our point-and-shoot camera, turned it on its end, propped it on the railing and took one shot per support. It turned out pretty well, considering it was improvised on the spot!
Surprisingly, the height didn't bother me here. The very top of the Needle is 605 feet above the ground; even though we weren't quite at the tippy top, I was pretty okay up there. (Not so, just about everywhere else, I've been perched on the edge of something tall.) Lots of places, I would not have been able to get close enough to the railing to anchor the camera. Whew!
Back on the ground, I took three shots vertically to capture the whole Space Needle against the brilliant blue sky.
No famous people are immortalized in this shot.
Warning/Guarantee/Disclaimer: This is a big, multi-resolution panorama. It may take a while to load. For amazing detail, try viewing it full-screen.
Taken Here:
[huge_it_maps id="102″]
More on the Space Needle: