Monday, April 15, 1996
Woke Up: Napier, New Zealand
Went to Sleep: Whakapapa, New Zealand
---
To commemorate our wedding twenty-one years ago, and subsequent month-long honeymoon trip to New Zealand and Fiji, here is a day-by-day account of our travels. To travel with us from the beginning, start with Tuesday, April 2nd.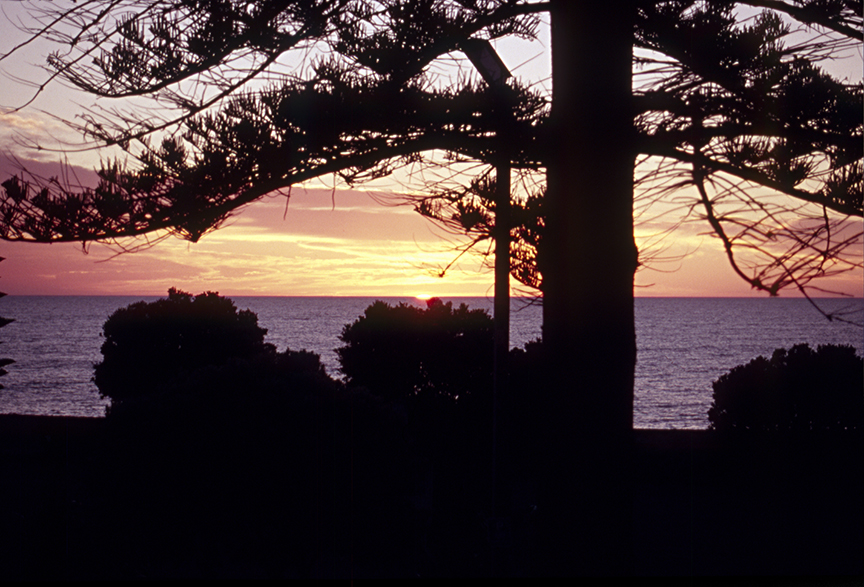 By chance, Laura woke up a few minutes before dawn this morning and got up to look at the view of Hawke's Bay. Then she grabbed the camera and caught sunrise. Nice timing!
A bit later in the morning, we take a walk around Napier, a city with a single downtown architectural vision. It's the kind of thing that comes about when an entire downtown gets rebuilt at the same time. Napier's time came in 1931 when an earthquake and the obligatory fires that followed nearly wiped the entire city away. It was rebuilt in the prevailing style of the day: Art Deco. I love Art Deco. This walk is a lot of fun for me. I think Laura likes the views of Hawke's Bay better.
The bed of Hawke's Bay rose up about seven feet due to the 1931 earthquake, and stayed there. It was beautiful before and it's still beautiful. We really start to feel the volcanic and seismic possibilities here. Soaking it all in, we walk around a corner and here's a restaurant called Burger Wisconsin. Huh? What possessed someone to name their burger joint in Napier, New Zealand after America's Dairyland? I guess it sounds exotic to the locals. Naturally, we have lunch there. They make a decent burger.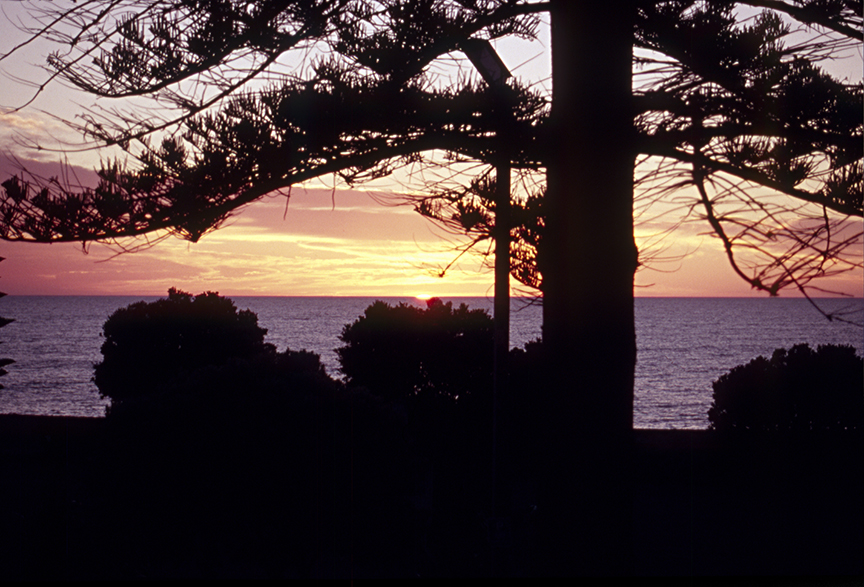 [click any photo to launch a slide show]
After our Burger Wisconsin experience, we pack up and head inland to the center of the North Island: the mountainous, volcanic region of Tongariro National Park. The three active volcanic peaks in the park are Mount Tongariro, Mount Ruapehu and Mount Ngauruhoe. Tongariro National Park is the first National Park in the world. It was made sacred in 1887 by Māori chief Te Heuheu Tukino IV. It became a World Heritage Site in 1990.
To make our journey to Whakapapa Village, where our hotel awaits, we have to go around Tongariro National Park, plus Kaimanawa Forest Park and Kaweka Forest Park. Our choices are to drive south along the little roads (4 hours) or north up to the shore of Lake Taupo and then head back down (3 hours). This is our honeymoon after all, and we're staying away from camping, caves, hikes that require crampons and ice axes, and potentially dangerous roads. The Taupo route it is.
The rest of the day's photos are from the drive. It's getting very volcanic around here. Lake Taupo is a crater lake. It also happens to be the largest lake in New Zealand. Uh, huh huh huh huh. Extinct cones rise out of the ground everywhere we look.
Whakapapa Village is located on "the volcanic plateau" between the peaks of Tongariro. Uh, huh huh huh huh. Mount Ruaphehu has been active for 2500 years, spewing ash and steam on a regular basis. Its been more active since November, 1994, and its most recent eruption was in September of 1995. Mount Tongariro has twelve cones, and had its last major activity from 1972-74. Mount Ngauruhoe is technically a cone of Mount Tongariro, but it gets its own top billing. It last blew its top in 1974 as well. And we are going to spend two nights at here, in the smoking shadow of these fonts of potential energy. Uh, huh huh huh huh.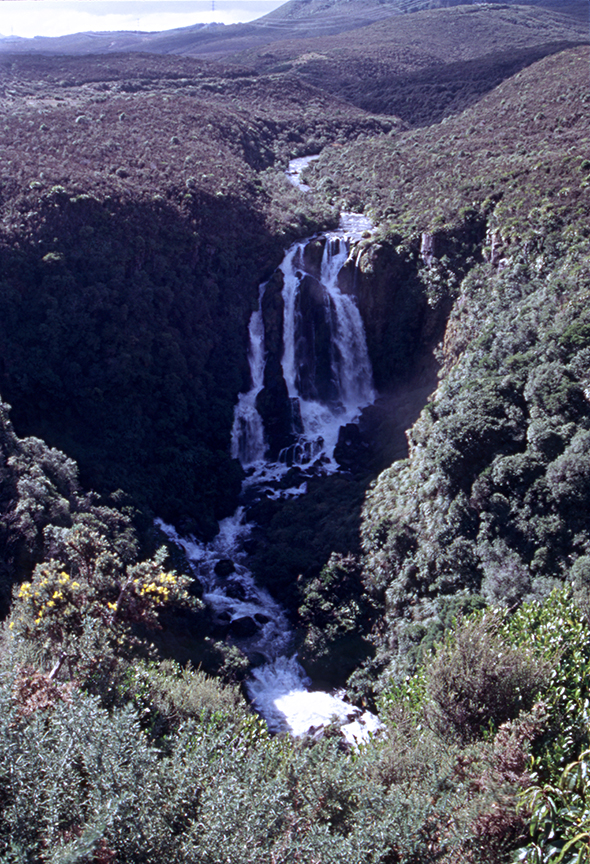 [click any photo to launch a slide show]
At the End of the Day: The Ruapehu Skotel
After 21 Years:
The Ruapehu Skotel is now the Skotel Alpine Resort. Burger Wisconsin has 23 locations, mostly on the North Island. Mt Ngauruhoe was used as Mt Doom in The Lord of the Rings movies.
Tomorrow: Tongariro National Park