Wednesday, April 17, 1996
Woke Up: Whakapapa, New Zealand
Went to Sleep: Taupo, New Zealand
---
To commemorate our wedding twenty-one years ago, and subsequent month-long honeymoon trip to New Zealand and Fiji, here is a day-by-day account of our travels. To travel with us from the beginning, start with Tuesday, April 2nd.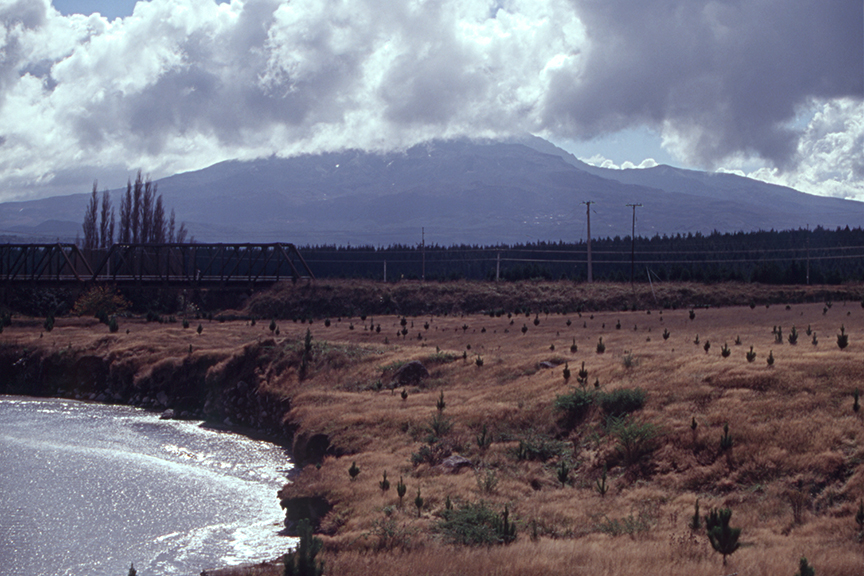 We're in no hurry to be up and out of the Chateau this morning. We only need to roll about ninety minutes north to Lake Taupo. Besides, the Chateau is really nice. Down to the dining room for breakfast and coffee, then back up to our room to begin a leisurely pack-up. Hang on, where's the film bag?
Back in the day, it was common to put one's film in a lead-lined bag for international travel. The x-ray machines at international airports were stronger, and could fog your film. Laura had a film bag from previous excursions overseas, and we've been keeping all our film in there. All of our exposed slide film and all of our fresh rolls are missing.
Where has our film from the trip-of-a-lifetime gone? We dump everything out, and start over. Still no film bag. We rewind our minds to the last time we loaded a new roll, which was… before we went on our hike yesterday… when we were still installed at the Skotel across the road. We call the Skotel and ask if they found a lead-lined film bag in our room. They say no, but they haven't made up our room yet, so it's possible it's still in the room somewhere.
Our leisurely pace is gone. We quickly pack everything up again, check out of the Chateau, load the car, and drive 275 yards to the Skotel. The desk clerk lets us back into our room and we start gently tossing the place. The room has a double sliding door out to a patio, and the curtains are open, hanging to the floor at both sides. Nestled in the curtain on the left is our film bag. The pattern on the film bag is a spot-on match for the 70s curtains in the Skotel! No wonder we didn't see it there. The bag completely disappeared against the curtains.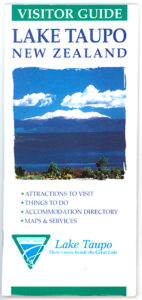 Relief. We profusely thank the Skotel staff, who congratulate us on our honeymoon again. Our film secure in our luggage, we are grateful that our one episode of leaving something behind at the last hotel happened when we moved one minute away, across the road.
Back in the car, we head north by going south first to Okahune, because it gives us another long view of the peaks of Tongariro. In Okahune, we make a pilgrimage to the giant carrot, and stock up for a Standard Picnic. Then it's back on the road to Lake Taupo.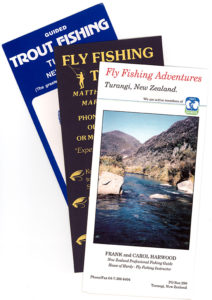 Lake Taupo is a crater lake. It was formed 27,000 years ago during something known as a supervolcanic eruption. This event covered almost all of New Zealand with ash, and left seven inches of as on the Chatham Islands over 600 miles away. The Taupo volcano has erupted 28 times since then, most recently in about 181 CE. There are thermal vents steaming out of the ground everywhere, extinct cones poking out of the plateau and the unmistakable shape of a very large crater lake to remind us of what lies beneath. Walking around the lake shore, it feels like the whole place could go up at any time.
The town of Taupo is a perfect, bustling tourist town with a population around 24,000. It's the New Zealand equivalent of Eagle River, Wisconsin. People come here to swim and boat on the lake, and also to fish. Lake Taupo is stocked with trout. I like to fish for trout. Maybe tomorrow.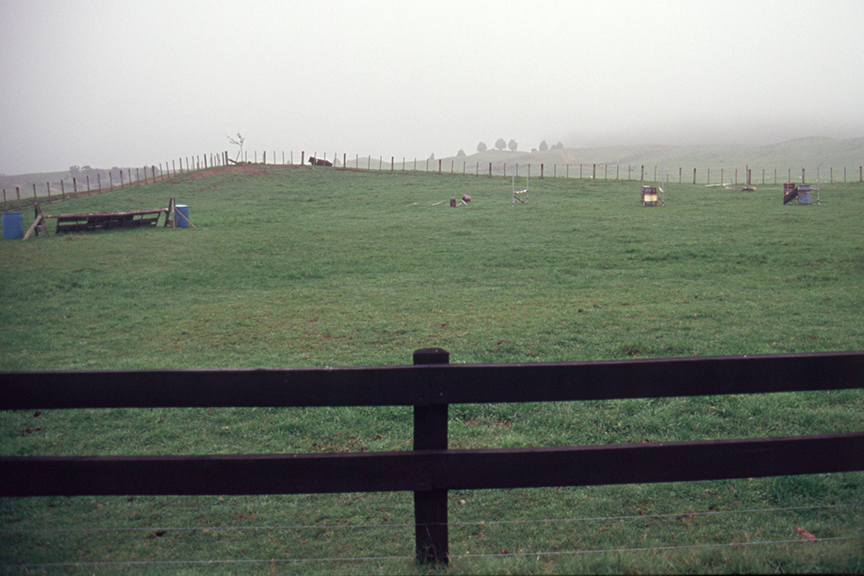 Our accommodations in Taupo deviate from our normal hotel options. We're staying in the home of a family that runs a horse farm near the lake, and not far out of town. The family is really nice, and we get fed well and everything is very comfortable. But… we are not horse people, and this family's life revolves around horses. We don't really click. Nobody's fault; we're just on different frequencies. Still, it's refreshing to be out of hotel rooms for a couple days and enjoy home-cooked food.
The low clouds are killing us today. Not much to photograph, and what we do shoot looks like we had a diffuser on the lens.
[click any photo to launch a slide show]
Start and Finish
After 21 Years:
The family we stayed with is still taking lodgers. It's a nice place, especially if you like horses. The Taupo volcano has has remained quiet, thankfully.
Tomorrow: Hanging Around Lake Taupo