Indian Council Caves is a large rock formation a few miles north of Barkhamsted, Connecticut. There's no evidence of Native American use of the site, for councils or anything else, and it's not really a cave formation. It's more a pile of fallen rocks that create some interesting shadowy spots that a couple people might be able to crouch in. Still, it's a dramatic series of house-sized rocks piled together, in a beautiful New England forest. No matter that it's miss-named; it's still a great destination.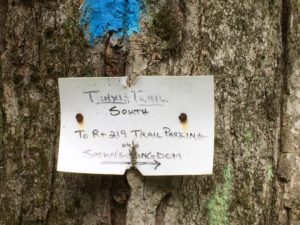 We are in the Tunxis State Forest, on a segment of the 79-mile Tunxis Trail. We have learned that the Tunxis Trail is part of Connecticut's Blue-Blaze Hiking Trail System, which means it's well marked and easy to follow. The Tunxis Trail stretches from Bristol in the south, all the way to the Massachusetts Border. The trailhead for this segment is across a busy highway and over a guardrail from the nearest parking, so we had to be ready to make a mad dash between cars, and vault the rail to get started. There's a small and welcome footbridge across the ditch on the other side of the rail – many thanks to whoever thought to put that in.
While reading up on the trail in advance, I expected it to be under heavy use from all combination of adult hikers, kids and dogs. The trail turns out to be deserted on this Monday afternoon in late summer. We walk about 2-1/2 miles from the road to the Caves, fording a couple little creeks, passing two beautiful ponds, and taking turns in the lead position breaking through the cobwebs and inchworm silk. No one's been out here today, that's for sure. The lack of people keeps making me think we've wandered off the trail, but the plentiful blue blazes say otherwise.
Just prior to the Caves, we get some altitude and end up back downhill a bit, on a rocky outcropping. There are great views of the surrounding forest from here, and a nice breeze to cool us down and confound the mosquitoes. We rest here a while, not knowing we are practically on top of the Caves.

Down the other side of the outcropping, and we are suddenly there. Indian Council Caves reminds me of other natural grottoes, including our beloved Parfrey's Glen, but Indian Council Caves has a mojo all its own. These rocks have been piled up for centuries, but it's all new to us. I'm glad we took a walk today.
No famous people are immortalized in this shot. There were two with me, but they hid behind the camera.
Warning/Guarantee/Disclaimer: This is a big, multi-resolution panorama. It may take a while to load. For amazing detail, try viewing it full-screen.
Taken Here:

More about Indian Council Caves: