Sunday, April 7, 1996
Woke Up: Queenstown, New Zealand
Went to Sleep: Queenstown, New Zealand
---
To commemorate our wedding twenty-one years ago, and subsequent month-long honeymoon trip to New Zealand and Fiji, here is a day-by-day account of our travels. To travel with us from the beginning, start with Tuesday, April 2nd.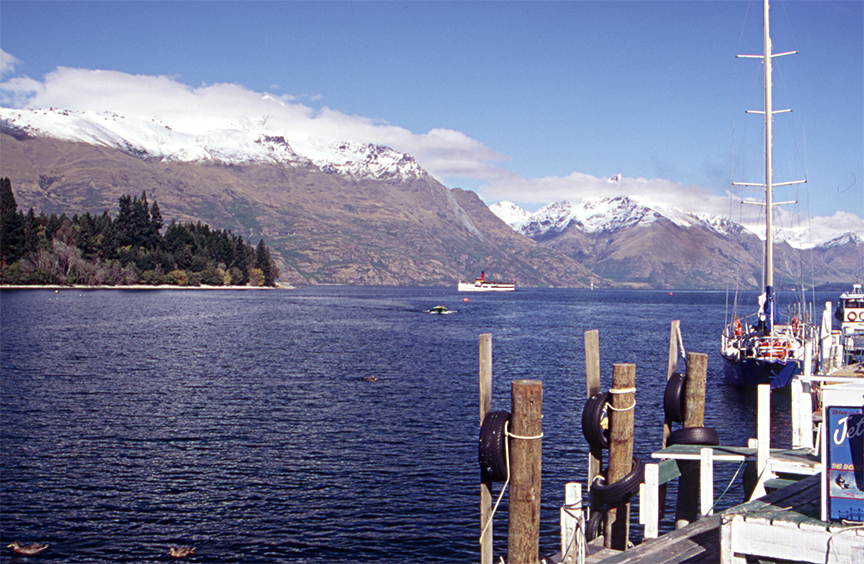 Our main agenda item today is to switch hotels. Our first choice wasn't available for our first night in Queenstown, so we stayed somewhere else. Today we move to The Stone House. We can't check in until mid-afternoon, so we load our stuff into the purple Ford and head downtown to learn our way around Queenstown.
Queenstown is at one bent corner of Lake Wakatipu, a Z-shaped Alpine lake like nothing we've seen before. Queenstown itself is a crazy idea. It's the hub of outdoor adventure sport in New Zealand, the jumping-off point for heli-skiing, jet-boating, para-gliding, and bungy jumping. The whole town exudes this "YEAAAAHHHHHHHH" vibe, like it's a good place to remind yourself you're alive. But it's a healthy New Zealand "YEAAAAHHHHHHHH" vibe, not a gung-ho thing.
Lake Wakatipu, which is really fun to say (try it!), is about fifty miles long if you stretched it out from a Z to an I. The lake has a unique feature – seiche. Its standing wave action causes the water in Queenstown Bay to rise and fall almost eight inches every 27 minutes. We are on vacation, so of course we stand on the shore and watch a whole seiche cycle.
Lake Wakatipu has its own Maori legend. In essence, the shape of the lake is the outline of a giant, lying on his side. Long dead, only the beating of his heart remains in the form of the rising and falling waters.
Enchanted by the story of the giant and the great energy of downtown Queenstown, we head off to Bob's Peak for lunch. On our way to take the gondola to the top, we stumble into the Kiwi Biidlife Park, a 5-acre preserve full of unique New Zealand wildlife. There is no reference point for the creatures here. I guess there were hawk-like things and parakeet-like things, but then there's the tuatara, which look prehistoric even for a lizard. But the main attraction is the kiwi house. It's just light enough inside to see the kiwis. They are adorable. I think the enclosures are there not to keep the kiwis in, but to keep the humans from picking them up and hugging them. Kiwis don't look anything like birds I've known elsewhere either. New Zealand has evolved its own unique collection of flora and fauna. It's weird and fantastic.
Fresh from another bewildering New Zealand experience, we hop on the Skyline Gondola to the top of Bob's Peak. At nearly 1500 feet above Queenstown, the view is spectacular. Naturally, there's a restaurant at the top, so we get to enjoy lunch with this panoramic view. We're on vacation after all, so we spend a lot of time at lunch. Outside the windows, people are para-sailing off the railing down to the town below. Queenstown is magic.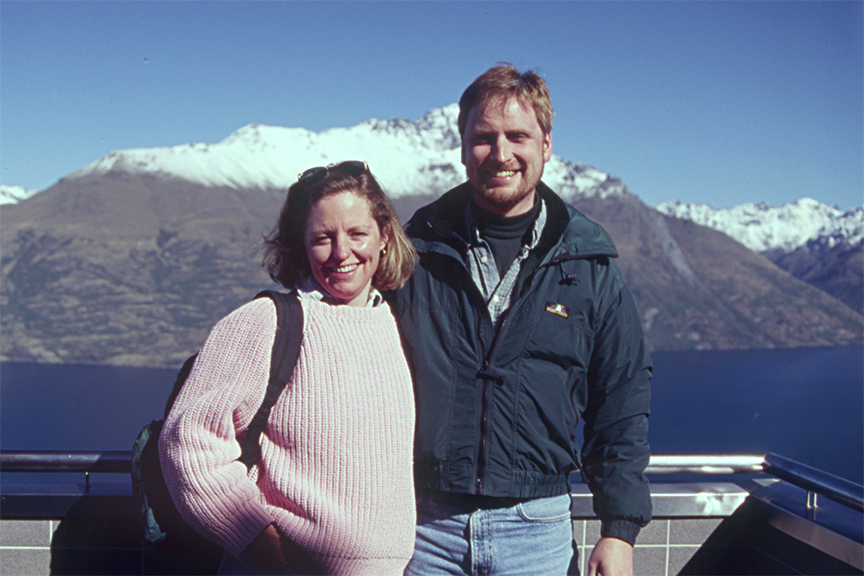 We decide to walk down Bob's Peak rather than take the gondola again. This turns out to be an idea of dubious merit. Better down than up! Back at sea level, we hop in the purple Ford and head for The Stone House to check in. I haven't written much about the places we've stayed, because I'm not a hotel critic and my tastes and opinions may differ from yours. As stated earlier, we are on a honeymoon, so there will be no camping, cave excursions, ice axes and crampons, etc. Our hotel selections are all over the spectrum. It's hard to tell from 8,500 miles away, and our timing was very specific, so sometimes we took what we could get. Our lodging ranges from cheap motels (one night in Christchurch) to farm stays (Lake Taupo) to downtown hotels (Dunedin, Wellington) to small inns (Christchurch, Auckland). The Stone House really spoke to us from afar, and we are very excited we get to check in now and see it for ourselves.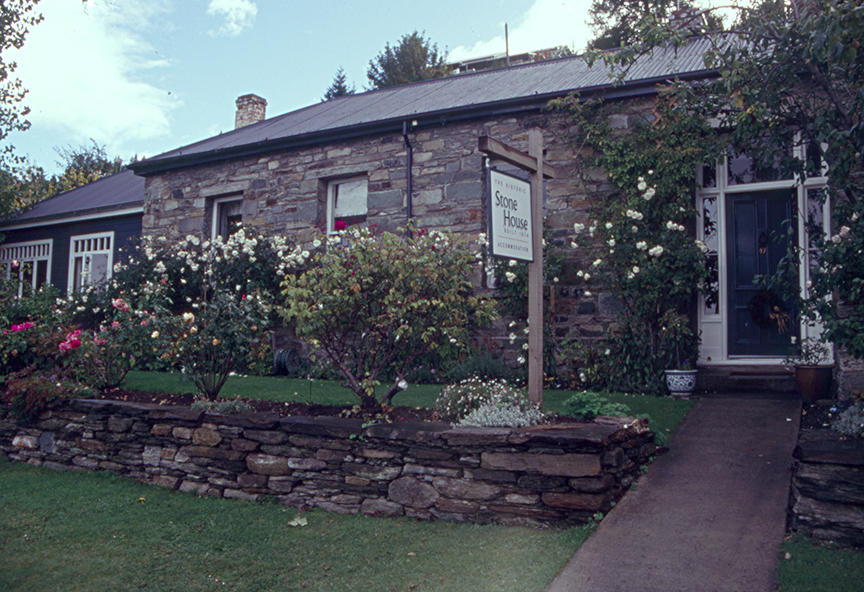 The couple who own The Stone House are retired Air New Zealand flight attendants. They are charming, energetic, and look twenty years younger than they are. They are great hosts. ("Thank you very much, we're very happy.") We love it here. There is a resident ginger tabby cat named Barry. At dusk, the hosts roll a tea cart full of cocktail makings out into the living room, muttering, "We don't usually do this…." Yeah, sure you don't. We enjoy a drink with the hosts and the other guests, and head out into the city for dinner.
Downtown Queenstown is not far from The Stone House, but it's up a steep hill coming back. It's good to walk off a big dinner, right?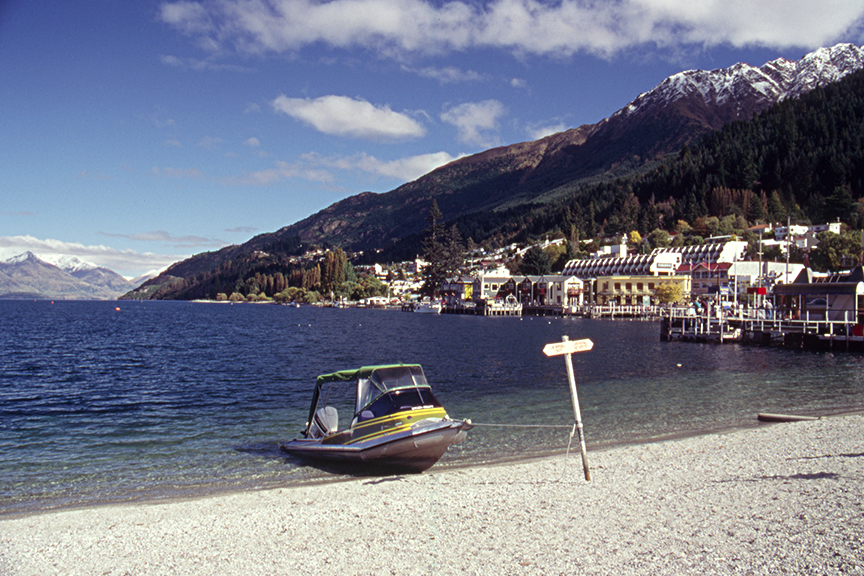 [click any photo to launch a slide show]
At the End of the Day: The Stone House
After 21 Years:
Nothing much has changed about Queenstown. I think the owners of The Stone House have retired by now.
Tomorrow: Milford Sound, Almost