Saturday, April 6, 1996
Woke Up: Franz Josef, New Zealand
Went to Sleep: Queenstown, New Zealand
---
To commemorate our wedding twenty-one years ago, and subsequent month-long honeymoon trip to New Zealand and Fiji, here is a day-by-day account of our travels. To travel with us from the beginning, start with Tuesday, April 2nd.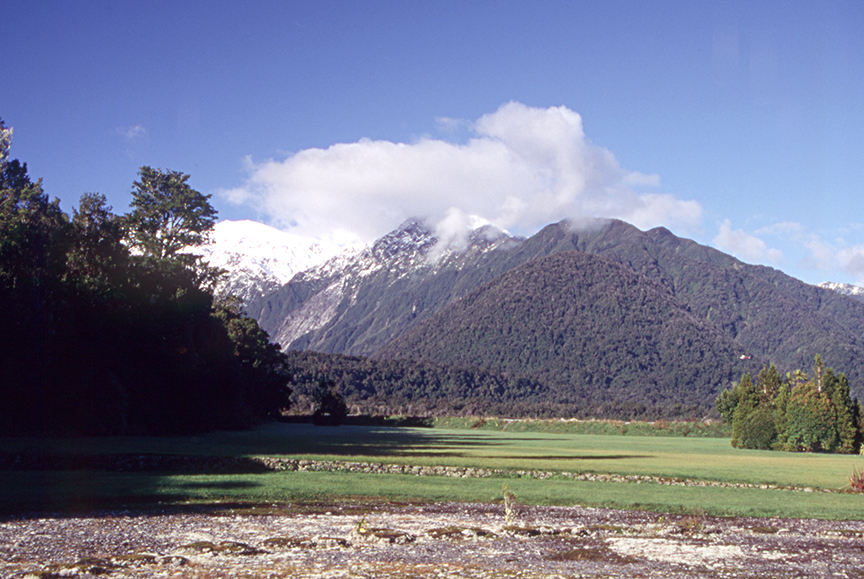 Today is going to be jam-packed and breathtaking. We're staying in Queenstown tonight, which is about five hours of mountain driving from here. But first, we're going to get up close and personal with the Franz Josef Glacier.
When Laura and I were planning this month in New Zealand, we decided to make it a real honeymoon trip. Though we'd camped our way across the western U.S. during our epic migration, there would be no tents, no below-ground excursions, no ice axes and crampons on our honeymoon. Though we are in the epicenter of helicopter glacier tours, we are going to skip the aerial approcah, wear normal shoes, and walk right up to the nose of the Franz Josef Glacier.
We are mystified at the trailhead at first. Where is the trail? Oh, we just walk up the Waiho Riverbed where the meltwater isn't flowing. The footing is all crushed rock, and the walls of the river basin are scraped, scoured and scarred. There are some powerful forces at work here. We pass markers indicating where the nose of the glacier was in centuries, then decades past. As we walk forward through time, it's hard not to notice the glacier has been receding since the Industrial Revolution.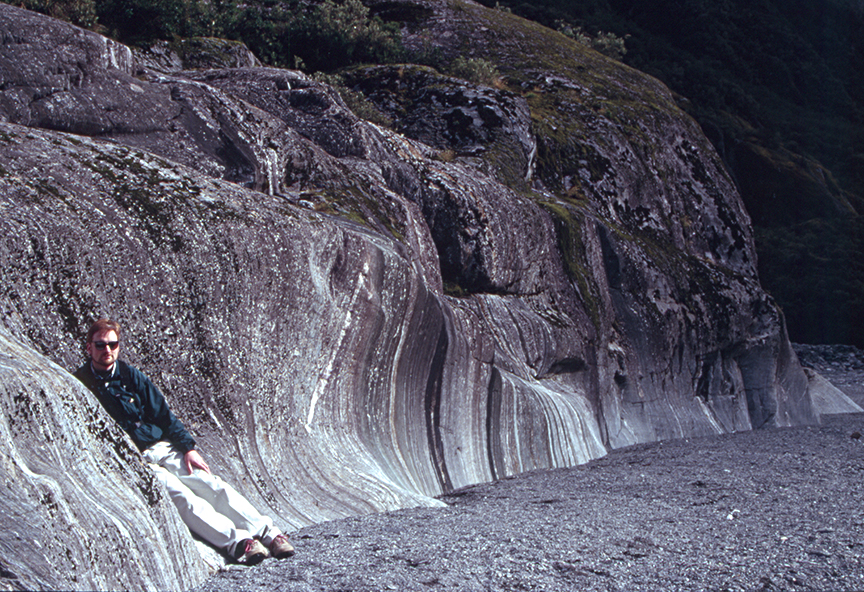 Waterfalls, escarpments, busted rock – this feels like a moonscape. We begin to notice that the glacier itself is a lot bigger than it looks. The closer we get, the more impressive it becomes. We consider that this is actually flowing ice under tremendous pressure. The ice is an emerald green. It doesn't look like it's doing much until we get up close. Then we see the melting, the freezing and thawing, the layer of crud being ground off the hills and riverbed by this slow-moving, ancient ice flow.
As we approach the nose, we can see the helicopter tourists up on the ice. They are really small compared to the size of the ice flow. I consider the last ice age, which covered my place of birth in ice over a mile thick. Staring a large glacier in the face, I still can't scale that up.
Unlike some friends of ours who touched snow in 1994 and claimed to touch a glacier, we actually touch a glacier.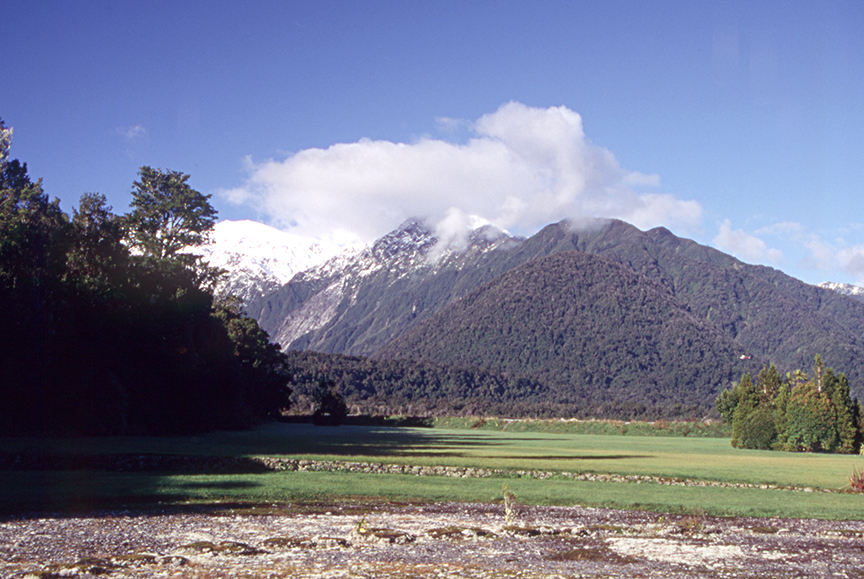 [click any photo to launch a slide show]
Part 2: Let's Drive to Queenstown!
Legs tired from a few hours of walking on the busted-rock riverbed, we are happy to sit for a while in the car. It's about five hours to Queenstown. More mountain driving. This country is amazing.
Back on Highway 6 heading south, the road is close to the Tasman Sea again as we avoid Fox Glacier and Mount Cook. We continue along the coast as far as Haast, where the road takes a sharp left and climbs back into the hills. Before we climb into the mountains, we replenish our Standard Picnic supplies and have lunch overlooking an extinct volcanic cone. New Zealand hadn't seemed volcanic before, but there's a lot more evidence ahead of us.
We switch back a bit north to wrap around Mount Aspiring National Park as we climb to the top of the ridge. It's now clear why we're heading the wrong direction – Haast Pass is the only way to get through the mountains from the Tasman Sea. We turn south again and run along the high ground. Past Lake Wanaka and then Lake Hawea, where we get our first look at what will become a familiar sight: sheep. We live in the land of cows, so it's funny to see something else out on the hillsides. There are a lot of sheep in New Zealand.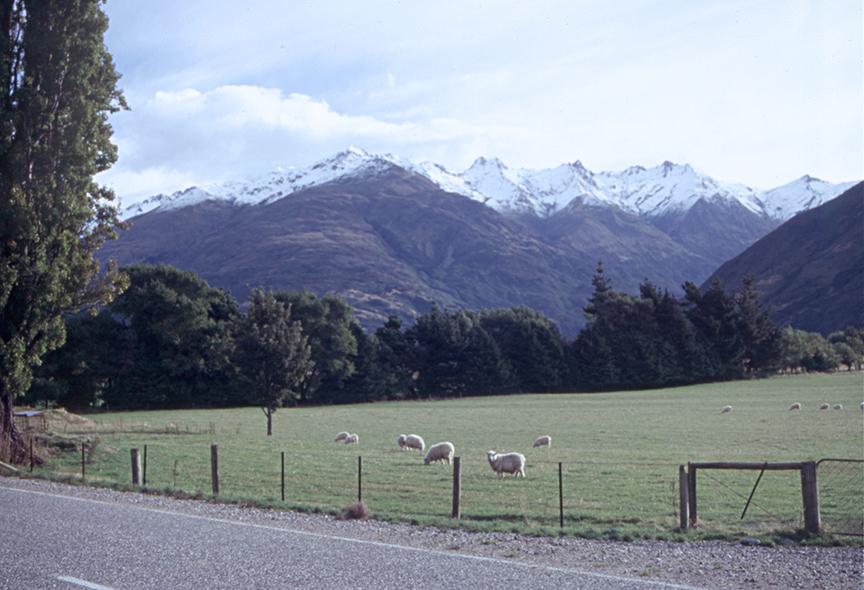 The home stretch from Wanaka through Arrowtown to Queenstown is full of traffic. We learn later in Queenstown that there's an air show called Warbirds Over Wanaka every Easter weekend, and we get to drive "home" to Queenstown with all the aviation fans on Good Friday. Honestly, it's nice to see some people. The south island is not very populated.
We arrive in the perfectly-situated Queenstown at dusk and check into the A Line Hotel. ("Thank you very much, we're very happy.") It's a nice place, but not our first choice. We move there tomorrow.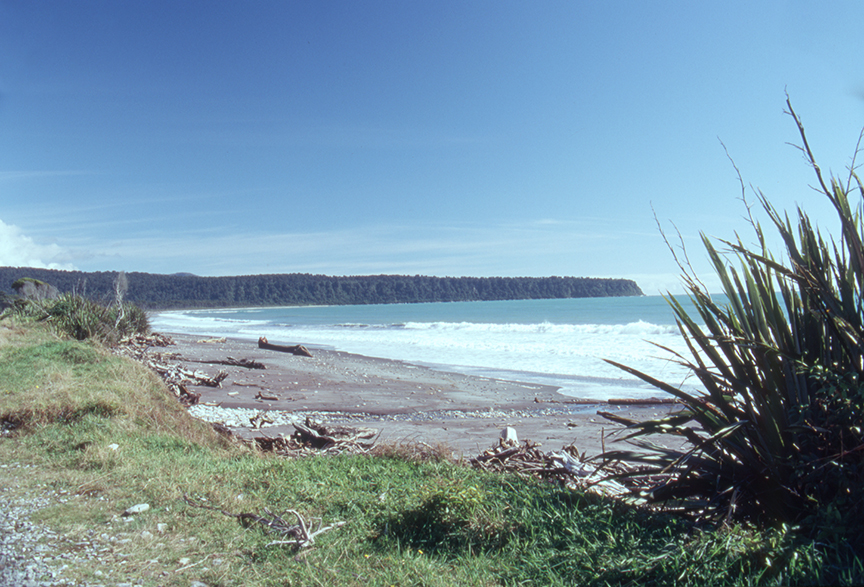 [click any photo to launch a slide show]
At the End of the Day: A Line Hotel
After 21 Years:
Franz Josef Glacier has retreated over 1/3 of a mile since we visited in 1996. The A-Line Hotel in Queenstown is now the Heartland Hotel.
Tomorrow: Around Queenstown