Tuesday, April 2, 1996
Woke Up: Madison, Wisconsin
Went to Sleep: Christchurch, New Zealand
---
To commemorate our wedding twenty-one years ago, and subsequent month-long honeymoon trip to New Zealand and Fiji, here is a day-by-day account of our travels.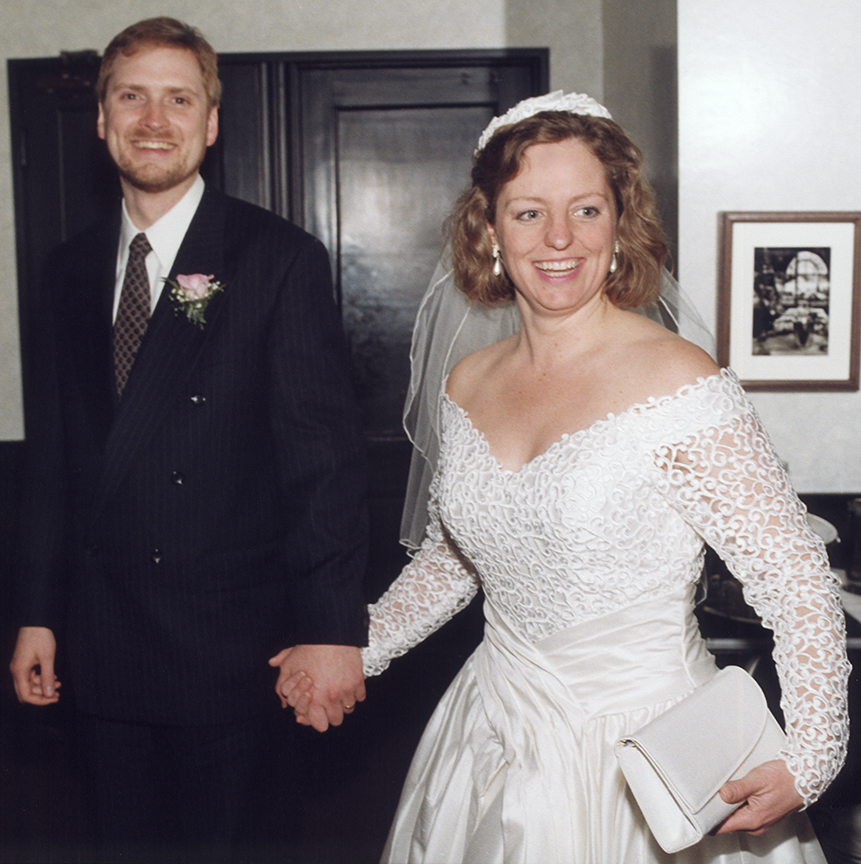 We woke up on March 31, 1996 at the Collins House in Madison. We were married. As if that wasn't enough to absorb, we were jetting off to New Zealand that afternoon. As long as I can remember, I'd wanted to visit New Zealand. Even now, with plane tickets in hand, a packed suitcase, and a packed itinerary, I can hardly believe we're going.
When Laura told her boss we'd set the date for our weddding for March 30, he replied, "Well, I guess you'll be gone the whole month of April." Laura didn't miss a beat, and called his bluff. "That's right!" she said. Could we actually have ourselves a true month-long post-wedding vacation? An actual "honey moon?"
The answer was yes.
We started planning our honeymoon trip along with the wedding itself. It started out as a tour of Australia and New Zealand, but we decided it wasn't enough time (ahem) to do both. So we threw Australia down under, and concentrated on New Zealand. The wedding gradually became the main attraction/distraction, with all the last-minute plans, getting the parents together for the first time ever, a rehearsal dinner, and then the Big Day itself. With the wedding over and everyone happy and smiling, we had a new main event. Good thing we'd been smart enough to hire a travel agent to do the heavy lifting on the honeymoon, because the wedding swamped us.
I don't think we realized how tired we were from all the wedding events until we got on a plane. But we're so excited to go to New Zealand! But we're so tired. But we're so excited! And we're so tired. Madison to Minneapolis, then Minneapolis to Los Angeles. With three hours to kill in LAX before our flight to Auckland, tired wins.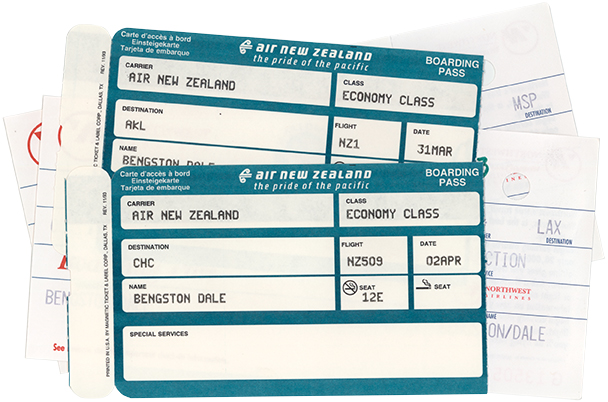 Worried that we're going to fall asleep in the gate area and miss our flight, we head for the floor. We drop our carry-ons and sit down with our backs against the jetway door. Our line of reasoning, such that it is, is that the gate agents will have to kick us out of the way to open the door and board the plane, which will wake us up. I don't remember if we fell asleep, but we were awake when boarding started.
And then we're off to Auckland, New Zealand! I still can't believe it's actually happening. I have a lot of time to think about it though. It's fourteen hours from Los Angeles to Auckland. This is the first time I've been on a plane with GPS showing where we are relative to the Earth's surface. That's fun at first, but after while, there really isn't anything out there in the South Pacific. It gets a little weird looking at that little pixelated airplane against a sea of… sea.
Out the portholes, we watch a nice sunset and then the nearly-full moon rise over the water. Nice clouds, beautiful night sky. Then the moon sets and it's really really dark and empty out there. Nothing on the GPS, nothing to see. How 'bout some sleep?
Every couple hours, the generous Air New Zealand flight attendants prowl the aisle with free stuff. "Care for some complementary New Zealand cheese?" "Yes, thanks." [sleep] "Would you like to try our complementary New Zealand Merlot or Sauvignon Blanc?" "Just give us one of each and we'll sort it out." [sleep] "Care to enjoy a complementary rack of New Zealand lamb?" "I'll take twelve, please." [sleep] Okay, so they didn't really serve rack of lamb, but we took everything else they offered us. It's a great way to pass the time between naps.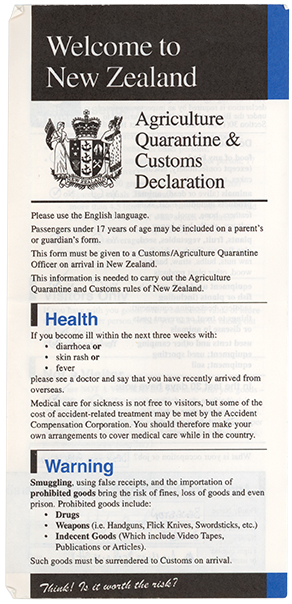 Finally! "Welcome to Auckland, New Zealand," the voice on the PA says. "Anything to declare?" the flight attendant asks. "I'm really happy to be here," I say to myself. Off the plane, into customs, rolling our luggage on a cart, rolling our jet-lagged ankles… uhhh why is that drug-sniffing dog is so interested in our luggage? We look at one another in horror, because this could be a really lousy delay, all for nothing. "Don't mind him. He likes American toothpaste," the friendly customs agent says. (I can tell we're not in the United States any more, because the customs agent is friendly.) With a sigh of relief, and we're on our way.
Released from the international concourse, we take a short shuttle bus ride to the domestic concourse for our flight from Auckland to Christchurch. We're almost there! But I really, really, really do not want to get on another airplane. This is our fourth flight of the day. Please, no more fuselages.
Time Warp
Hang on a minute. We left Madison on March 31st, and it's April 2nd now. What happened to April 1st? Oh, it turns out there was something out in that big, empty South Pacific: we crossed the International Date Line. April Fools – you don't get April Fools Day! This is just one more oddball thing that's happening to our senses at this point. We left Madison in snow and frozen lakes. We are now in autumn, with turning leaves and that dark green foliage of late season. We're jet lagged, we just watched a dog fall in love with our luggage, the seasons are all wrong, and we just misplaced April 1st.
I like this vacation!
Okay, I'll spend 45 more minutes on an airplane. Something weird will probably happen, and that might be fun.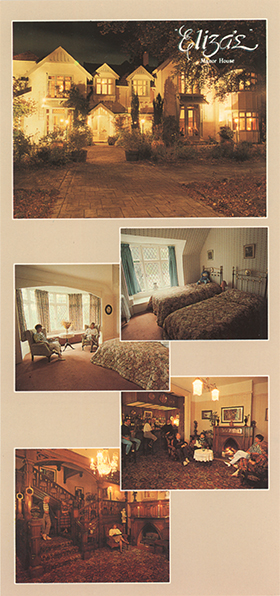 I have no recollection how we got from the airport to our hotel in Christchurch. It's an elegant place called Eliza's Manor House. It's not really an inn, but not really a hotel either. But it's nice, and our room has a good view of the city. We have learned that our travel agent let everyplace we are booked know we are on our honeymoon. How cute! "Thank you very much, we're very happy."
We got ourselves settled and then went out for a walk around the area. We strolled through the Christchurch Botanic Gardens, which were lovely. The roses alone were worth the walk. The Botanic Garden and the local architecture underscore how English this town feels… except for the tropical aspects and sunshine, but oh well.
We found a place called Dux de Lux* that makes its own beer, so we sat on their patio and enjoyed said beer and the mild fall weather. I remember two things from Dux de Lux. First, we heard a song by a Madison band on the patio music feed. That band is named Garbage, and the song, "Queer," eventually rocketed to #37 on the New Zealand Billboard charts. We're going to have to start telling everybody we know Butch Vig.
Second, Laura managed to somehow backhand our pitcher of beer off the table and onto me. I was sitting on a mesh patio chair, so it kept right on going. It was pretty amazing how little beer I wore home, considering a pitcher landed in my lap. It missed the camera, too. Anyway, we started laughing, and kept laughing until we started to make the staff uneasy. We were pretty squirrely by this point, after a wedding, four plane flights and a pitcher of beer. We also visited a place called the Loaded Hog for some food before we headed back to Eliza's and dry clothes.
Don't sleep when you get there, people said. Adjust to the local time as quickly as you can, we were advised. Stay up until local bedtime, the jet lag experts told us. We broke all the rules. By 4pm we were out cold. It was a long day. Or two days, or three, or whatever. April Fools!
The real adventure begins tomorrow.
[sleep]
[click any photo to launch a slide show]
At the End of the Day: Eliza's Manor House
After 21 Years:
A few things have changed since 1996. The Collins House closed for a while, and reopened as the Mendota Lake House Inn. Northwest Airlines was swallowed by Delta in 2010. Dux de Lux, along with a good bit of downtown Christchurch, was severely damaged in an earthquake in 2011. Dux's building was deemed unsafe and they moved to the suburbs. The Loaded Hog might still be around, but it's hard to tell based on their lack of Internet presence. Eliza's Manor House looks exactly the same. Garbage is still rocking off and on – they released their sixth album in 2016. After 21 years, I have yet to take a longer plane flight than fourteen hours from Los Angeles to Auckland.
Tomorrow: Charming Christchurch